We offer UV and Spray Tanning
We offer UV and Spray Tanning
Get ready for summer with a base tan.
Get deep, dark, long lasting color in any of our air-conditioned tanning units.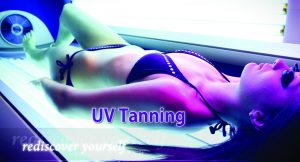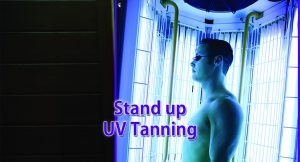 Lay down or stand up and experience the most premium UV tanning technology available in the area.
Platinum Tan
Unlimited use of Platinum Bed
(52 reflector lamps, 4 facials,
4 side and 4 shoulder lamps), and
Unlimited use of VIP beds (42 lamps, 3 facials) and Stand Up (48 reflector lamps).
1,3,6,12 months:  $59 $149 $239 $349
VIP Tan
Unlimited use of VIP beds (42 lamps, 3 facials) and Stand Up (48 reflector lamps).
1,3,6,12 months  $49 $129 $179 $299
Add Self Spa Sessions to any monthly non-Self Spa Service package $25.
Save $10.  (Floatation excluded)
Add K-1 to any monthly package for $15/month.
Student/Military $10 off any package.
Senior 60+ – $10 off any package.
Spa Memberships
Unlimited time/day use of equipment
Custom Airbrush Spray Tans – $60
Let our Certified Spray Tan Technician give you the tan of your dreams. The Norvell solution is formulated with Natural Color Complex which can be customized to the darkness level you desire and allows the Technician to contour your body. Process includes the Primer, Color and Post Spray application.
Before your Spray Tan: Moisturize often days before your spray tan. Use only products that are free of mineral oil, sulfates, parabens and perfume. No shea butter, oils or moisturizers.  The day of your Spray Tan eat a high protein meal avoid high fat foods. Shower, shave and exfoliate (luffa is best), no oil based scrubs, no lotions, come in squeaky clean. Wear dark, loose clothing (any product on clothing will wash off). With proper care, Spray Tans will last about 7 days. Consider doing a Hydration Station session before your tan, this deep moisturizing and warming of the skin will make your Spray Tan more flawless and days last longer.        
Spray Tan Care
Wait to shower at least 5 hours after spray rinse with warm or cool water no soap, next showers we suggest using a natural soap
No mineral oils, no sulfates, no perfumes and use paraben free products.
A woman's tan may develop differently during various hormonal changes such as ovulation, menstruation or pregnancy. It may be streaky, patchy, fade quickly or produce lighter or no color.
No Anti-Acne products that exfoliate or dry the skin.
Antibiotics or other medications that affect your skin can also affect your tan.
No Anti- Aging products that "renew" or "refresh" or otherwise exfoliate skin
Band-Aid or adhesive tape applied to skin will pull tan off.
No Wax or Depilatory hair removal products such as Nair, Veet or Neet.
No body hair bleaching products
Adhesive facials strips or peel off masks, waxing or sugaring after spray
Bug sprays, perfumes, body sprays when sprayed directly onto skin can remove or fade the tan. Instead, spray clothing.
Dove soap and shower gel will fade tan faster on most people. NO DOVE PRODUCTS!
If you exercise and sweat heavily, your tan will fade faster. Especially in body fold areas… arm bends, knee bends, and between breasts
Dry skin will fade faster. Moisturize at least twice a day with a Spray Tan moisturizer.
When using make up remover cleaning products may remove your tan.
Pat dry out of the shower NEVER RUB skin dry.
Shaving exfoliates the skin so also fades the tan. Use a sharp, clean razor with hair conditioner instead of shaving cream.
Chlorine, if soaking in hot tubs or swimming, your tan will fade FAST
Toners containing alcohols in the top three ingredients listed are bad to use before or during the course of your airbrush tan.
"If you want to relax, watch the clouds pass by if you're laying on the grass, or sit in front of the creek; just doing nothing and having those still moments is what really rejuvenates the body…".
Gift Cards Available!
Prices are subject to change without notice.
Ask your Therapist about their Frequent Spa Program
Earn $10 with each visit!